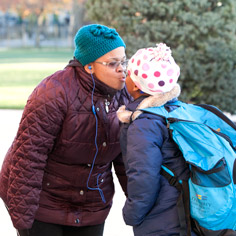 New Families
Expectations
Welcome to Providence Englewood Charter School!
Each of you brings something unique and special to our community. At Providence Englewood, we greatly value our partnership with our students' parents/guardians. Every year, we see how this partnership builds bridges, overcomes obstacles and increases our students' performance. Parents and guardians are our partners in enabling our students to achieve their goals. Together, we assist our students with learning, addressing issues and finding solutions to academic or personal challenges. We look forward to working with you to help our students achieve a successful academic year.
Parent/Guardian Commitments to Providence Englewood
Support our school's mission and goals
Be actively involved in your student's academic career
Attend all scheduled teacher conferences (4 per year) and parent enrichment classes (6 per year)
Comply with the rules and directives outlined in our Student Handbook
Ensure your student arrives to school on time, every day in uniform
If your student's grade average falls below a C average, ensure he/she attends mandatory tutoring sessions
Parent Enrichment Program (PEP)
The Parent Enrichment Program (PEP) is an opportunity for you and your child to gather with other new families who, like you, are making great sacrifices to access quality education for their children. PEP provides families with a setting to ask questions and share concerns regarding your children's academic, social and emotional development needs as you move through the academic year at Providence Englewood. During these sessions, you and other families will discuss and practice contemporary topics to support your child's success at school. You also will have the opportunity to connect with our school's faculty and staff. In addition, your child will have the rare opportunity to play with fellow classmates. New families are required to attend all six Parent Enrichment workshops. Dates to be forthcoming.